The Peoples' Democratic Republic of Laos is located in the center of Indochina, sharing borders with China to the North 416 kilometers, Myanmar to Northwest 236 kilometers, Thailand to the West 1,835 kilometers, Cambodia to the South 492 kilometers and Vietnam to the East 1,957 kilometers.
With a total area of 236,800 square kilometers, around 70% of Laos' terrain is mountainous, reaching a maximum elevation of 2,820 meters in Xieng Khouang Province. The landscapes of northern Laos and the regions adjacent to Vietnam, in particular, are dominated by rough mountains.
The Mekong River is the main geographical feature in the west and, in fact, forms a natural border with Thailand in some areas. The Mekong flows through nearly 1,900 kilometers of Lao territory and shapes much of the lifestyle of the people of Laos. In the South the Mekong reaches a breadth of 20 kilometers, creating an area with thousands of islands.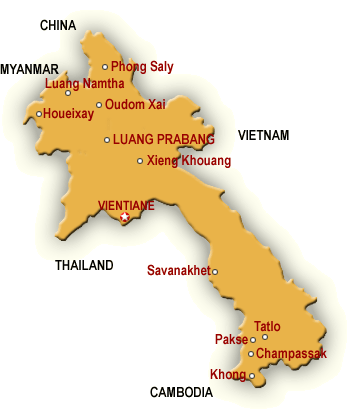 Laos has one of the most pristine ecologies in South East Asia. An estimated haft of its woodlands consist of primary forest, in particular the tropical rain forest. Unlike the vegetation, which grows in the climate Europe and the United States, tropical rain forest is composed of three vegetative layers. The top layer features single-trunked, high-reaching tree called dipterocarps. The middle canopy consists of hardwood such as teak. Beneath, small trees, grass and sometimes bamboo can be found.
In addition to its fascinating vegetation, Laos plays host to a diverse animal kingdom. Several exotic mammals are endemic such as leopard cats, Javan monoose, goat antelopes as well as rare species of gibbons and linger, Malayan sun bear, Asiaticblack bear and guar. The discovery of the Saola Ox, a breed of deer-antelope, in Vietnam a few years ago caused a sensation. This extremely rare animal inhabits the eastern border regions of Laos. It is thought that these remote areas probably still hide other unknown species.
In the south of Laos, near Khong Island, Irrawaddy dolphins inhabit the MekongRiver. While many species of wildlife are shy and can rarely be seen, spectators will generally be able to spot the dolphins in spring when the water level ofMekong is lowest. Laos is also rich in resident and migrating birds. One of the more notable ones is the tare Green Peafowl.
| | | |
| --- | --- | --- |
| Capital City | : | Vientiane Municipality |
| Major Cities | : | Luang Prabang, Champasack, Savannakhet |
| Bordering Countries | : | China, Myanmar, Thailand, Cambodia, Vietnam |
| Inhabitants | : | 5,500,000 |
| Flag | : | |
| Languages | : | Laos |